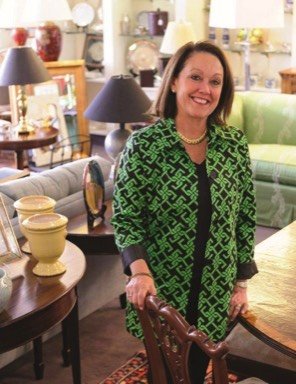 We offer custom orders including upholstery and case goods. We can arrange pick-up and delivery services. Severed Ties Consignment has quality furnishings and accessories in great condition to complete your decorating scheme, with designers on staff to assist you. We can help you with staging projects plus short term rentals. Not to be missed a selection of new, exquisite vintage to high end jewelry like Tiffany, Cartier, Bvlgari, Roberto Coin and many more.
Severed Ties is a chic, home furnishings and estate jewelry consignment shop located in the heart of the design district in New Canaan, CT. Ginger Craft, the new Proprietor, infuses the shop with her discerning, witty taste and will help you discover treasures from Mid-Century Modern, Traditional, Transitional, Oriental and Contemporary periods and styles.
Severed Ties, LLC has enjoyed long relationships with our clientele from both the design community and the private sector. We take great pride in providing the most thorough, knowledgeable and friendly customer service to ensure that our customers will have the best possible experience.
If you are considering an Estate Sale, we can help arrange it for you. Come visit our large showrooms or browse online, we are ready to help you create a timeless interior to match your lifestyle. From traditional to modern, you'll find an exceptional choice of furniture, accessories, art, lighting fixtures and rugs. And now, we are pleased to present our newly expanded estate jewelry selection.
Come back and visit often!
Ginger Craft